THE TEN GREATEST ESSAYS, EVER
Joan Didion, "On Keeping A Notebook"
(from Slouching Towards Bethlehem, 1968)
The pinnacle. I still read it multiple times a year and it never fails to surprise and chasten.
Joan Didion, "Goodbye To All That"
(from Slouching Towards Bethlehem, 1968)
First read it at age 17, when the worldliness of the author seemed completely unattainable. Now I'm well over ten years older than her, but the wisdom of the piece still doesn't get used up.
E.B. White, Here Is New York
(from HarperCollins, 1949)
One of the most beautiful appreciations of New York City, the love of my life.
David Foster Wallace, "A Supposedly Fun Thing I'll Never Do Again"
(from A Supposedly Fun Thing I'll Never Do Again, 1997)
No doubt on everyone's list, a fact that might confirm my own lack of originality if it weren't for the fact that the essay is a total fucking masterpiece.
David Sedaris, "Ashes"
(from Naked, 1998)
I love David best when, in addition to being one of the funniest writers alive, he's also a little bit sad.
Russ Rymer, "My Life's a Wreck"
(from Los Angeles magazine, 2002)
"The meaning of Los Angeles, met head on" is the author's own subtitle. Rymer is the author of Genie: An American Tragedy, one of the very best nonfiction books ever. He writes like an angel.
Ben Hecht, "Tomorrow's Tintype"
(from PM Magazine, 1941)
From a collection of columns he wrote in 1940-41 for PM Magazine. Uncannily prescient, slyly political, and again, about my beloved city.
Ann Patchett, "Love Sustained"
(from Harper's, November 2006)
About caring for her grandmother. Her language is poetry and her eye is vodka-clear.
Mark Kingwell, "Meaning To Get To: Procrastination And The Art of Life"
(from Queen's Quarterly, Fall 2002)
Scarily smart, and funny to boot.
Aldous Huxley, "Wordsworth in the Tropics"
(from Do What You Will, 1929)
A lovely flip o' the bird to the romantic school of blindly loving nature, despite its occasionally swampy, fetid, Dengue-filled incarnations.
About David Rakoff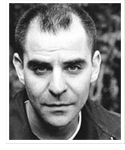 David Rakoff is the author of the essay collections Fraud and Don't Get Too Comfortable, both of which were New York Times best-sellers in nonfiction and received Lambda Literary Awards for Humor. His essays appear regularly in The New York Times Magazine, Vogue, Salon, Wired, Conde Nast Traveler, Outside, and GQ, for which Rakoff serves as a writer-at-large. A frequent contributor to Public Radio International's "This American Life," Rakoff has also appeared in the film "Capote" the play "The Book of Liz," and as the voice of Thomas Jefferson in the audio recording of America (the Book): A Citizen's Guide to Inaction. He lives in New York.