Joshua Raskin, "I Met the Walrus"
Selected by graduate students in the Nonfiction Writing Program at the University of Iowa
In 1969, when John Lennon and Yoko Ono were visiting Toronto, Canada, as part of their "bed-in" protests, a 14-year-old boy named Jerry Levitan gave himself the assignment to find his childhood hero. He borrowed his father's reel-to-reel recorder, took a bus to Toronto's fanciest hotel, and started roaming the guest floors for some spot of John Lennon. When a housekeeper asked the boy, "Are you looking for the Beatle?" Levitan said yes, and followed the woman to another floor where he found Yoko's daughter coloring in the hallway outside an open door. Levitan walked through that door, into a large and fancy suite, and sat down on the couch to await John Lennon.
After having ignored reporters for months during this period, John Lennon supposedly laughed at Levitan's intrusion, and agreed to an interview with the 14-year old boy. What resulted is a 40-minute meditation by Lennon on love, war, peace, angst, and the unavoidable break-up of the world's most famous band.
Thirty-eight years later, filmmaker Josh Raskin has woven that historic interview into a 5-minute-long narrative that tenderly romances John Lennon's every word. Using hand-drawn images and stop-motion animation that subtly reference the film "Yellow Submarine," Raskin has collaged those drawings with Levitan's interview to create a multipronged cascading flood of imagery, a free-associating visual map of John Lennon's train of thought, and perhaps also a glimpse into the mind of his interviewer, the 14-year-old boy who stands in for all of us, his imagination unloosed by a life-changing encounter.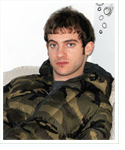 About Josh Raskin
Josh Raskin is a graduate of the New Media Studies program at Ryerson University in Toronto, Canada. "I Met the Walrus" is his first professional film. It's been screened at over a dozen film festivals, including Sundance, the American Film Institute, the Brooklyn Film Festival, San Francisco Shorts, the Ottawa International Animation Festival, and the Middle East International Film Fest in the United Arab Emirates. It was also a finalist for the 2008 Academy Award for Best Animated Short, and has received five best documentary film awards.
Listen to an interview with Joshua
I Met the Walrus
"I Met the Walrus" was produced in 2007 by Kids and Explosions in Toronto, Canada, in cooperation with Jerry Levitan, the man who interviewed Lennon. It was made with a grant from the Foundation to Assist Canadian Talent.