Sophie Calle's The Address Book
Oscar Wilde once wrote that "Every portrait that is painted with feeling is a portrait of the artist, not of the sitter." And in many ways this speaks directly to the winner of the 2014 Essay Prize—Sophie Calle's provocative, complex, and ultimately fascinating portrait of a man she never met.
In 1983, Calle found an address book on the street, photocopied its contents, and anonymously mailed it back to its owner, a small-time filmmaker whom she calls "Pierre D." Calle then visited Pierre's personal contacts and asked them what they knew about the address book's owner. "Thus, I will get to know this man through his friends and acquaintances," she writes in the book's first page. "I will try to discover who he is without ever meeting him, and I will try to produce a portrait of him over an undetermined length of time that will depend on the willingness of his friends to talk about hi —and on the turns taken by the events."
Long interested in challenging the line that separates public and private, Sophie Calle has donned disguises to stalk and photograph a stranger in Florence, worked as a chambermaid so she could gain access to private hotel rooms, and published a book that juxtaposed nude photos of herself with cards her parents received when she was born. But The Address Book is the fullest realization of her obsession with the idea of privacy, partly because as she acknowledged in a 2008 interview "this is the only project where I went too far. Yet if it had to be redone, I would redo it because the excitement is stronger than the guilt."
In his own way, Pierre soon proved as relentless as Calle. When he learned of the project, Pierre unsuccessfully sued the artist for invasion of privacy. He hectored the newspaper that first published Calle's project, 
Libération
, until it published his response, consisting of a nude photo of Calle that he had found—a photograph that she herself had already published years earlier.
The petty and self-defeating Pierre is partly what makes The Address Book so compelling, funny, and devastating. He is full of contradictions, of bitterness borne out of thwarted professional ambitions, and of self-deception. "He constantly tells strange, heavy, suspicious stories," says one acquaintance in The Address Book, "in which he always plays the role of the victim, totally demoralized by his misfortunes and, at the same time, totally delighted by them." His overreactions to small slights often hurt himself worse than the affronts themselves. In fact, we only know his real name, Pierre Baudry, because of his efforts to protect his privacy—an early, pre-digital example of the Streisand Effect.
Made up of 28 daily entries,
 The Address Book
 asks how well we can know another person, and what our obsessions tell us about ourselves. Without ever meeting Pierre, Calle creates a surprisingly vivid portrait of her subject through interviews with mere acquaintances, casting new light on the bonds that keep people together and the barriers that keep us apart.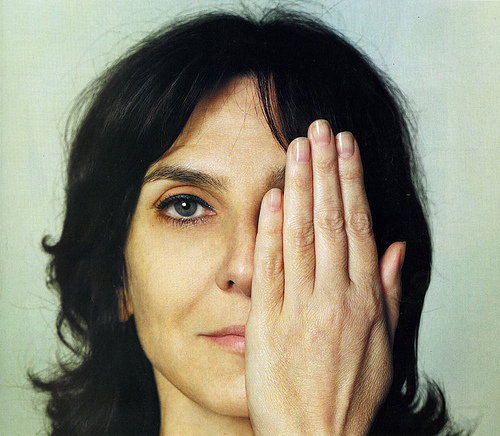 About Sophie Calle
Sophie Calle is an internationally renowned artist whose controversial works often fuse conceptual art and Oulipian-like constraints, investigatory methods and fictional constructs, the plundering of autobiography and the artful composition of self. Using a range of media—photography, film, writing, performance, installation—Calle explores the tensions between the observed, the reported, the secret, and the unsaid; desire and voyeurism are often agents to expose the multiplicity of truth as well as its absence. Her 2007 Venice Biennale French Pavillion installation Please Take Care of Yourself has been exhibited worldwide to great acclaim, most recently installed at The Pulitzer Foundation in St. Louis. The Whitechapel Gallery in London organized a retrospective in 2009, and her work has been show at major museums such as Musee d'art Moderne de la Ville de Paris and Centre Georges Pompidou, Paris; De Appel, Amsterdam; The Museum of Modern Art and The Whitney Museum of American Art, New York; Carnegie Museum of Art, Pittsburgh; Museum of Fine Arts, Boston; Hayward Gallery and Serpentine Gallery, London; Museum of Contemporary Art, Chicago; among others. She lives and works in Paris.