THE TEN GREATEST ESSAYS, EVER
October 29, 2008
Dear John,
I'm tempted to wave my fist in the air and shout "Damn you, John D'Agata!" in that imperious, Hollywood-movie tone implying both despair and delight in whatever the perpetrator has done to elicit this spray of emotion. And in this case it was your seemingly innocuous request, your courteous desire for a simple list of my "ten favorite essays of all time." Oh sure, I replied, no problem, happy to do it, it will be fun. After all, I love both lists and essays, what could be so hard about that?
I love all lists: to-do lists, grocery store lists, end-of-the-year lists of the best, the worst, the must-sees, the events that have defined our times. Lists make things manageable. Lists take an unordered world and order it in neat single-file lines. They're a little like fire drills–here we are, just doing our thing, figuring out math problems or running around like hooligans, and then the bell rings with its shrill insistence that it's time, the teacher claps her hands: okay, children, make a single file line and walk in an orderly fashion to the nearest exit. I always obeyed, standing demurely in my place, my hands smoothing my pleated, cotton skirt, my eyes pointed steadfastly forward, ignoring the ruffians, the class clowns, who hooted in the hallways and darted out of line. I marched my way to safety, passing through the big double doors into the bright air of the playground, so unfamiliar at this hour, every class streaming forth and forming whirlpools of kids. We counted off, made sure everyone was present and accounted for. We waited for the imaginary danger to pass.
Well, creating this list has been a little like a fire drill. A bell rung, and I tried to line up my charges in an orderly fashion. I counted them off: okay, here's Joan, here's Elwyn, here's Bernard, here's Albert. But wait, where's Margaret? Has anyone seen Mark? Where the hell did Annie go? My charges kept leaping up and running away, and I felt like an overworked mother, calling out the names of her children in rapid succession, knowing she's forgetting someone. Get in line, people, settle down!
Okay, maybe this metaphor has been stretched as far as it will bear. But what I mean to say is that this list became a living thing, percolating in my mind for a month, revealing things about me that I'd forgotten. I fondly reminisced with some of the essayists who early on became beacons for my own foray into this land: Joan Didion, E.B. White, Bernard Cooper. I touched their essays and remembered what it was like back in the days before I really knew what an essay could be. I remembered my pure joy at hearing these voices—crafted, yes, absolutely, but also with a sense of ease and camaraderie. Here I am, talking to you, they seemed to say over and over, and I sat rapt with attention. You can do this? I said to myself, You can really bare the self on the page? And you can do so without falling apart? I could have filled up this "ten favorite" list with multiple essays by just these three authors and been quite happy to do so.
But then my good-girl instinct kicked in. And my curiosity. And my wish to be seen as a well-read "expert" in the field. And my desire to find little gems that no one else would put on their lists. I can't just fawn over three essayists, I thought to myself, what will people think? So I began perusing my bookshelf, picking and choosing the essays that, for whatever reason, had stayed with me all these years, had shown me something either about the form of the essay, or about just how deeply we can go with our personal experience, or about the acrobatic ability of language to get us somewhere we never expected. The essays started piling up on the floor. They were an unruly bunch, all of them vying for a place, pushing and shoving and created general mayhem.
The end of October approached. I re-read your email. I avoided catching the eye of the essays on the floor. I made little attempts at creating single-file lines, but they went all scraggly in no time at all. While I wasn't looking, more essays edged themselves into the room. These essays were calling me to look at my own history as a writer, to see what I value and what I don't. They showed me all my past writer selves—lined up like an evolutionary chart, first swimming in the primordial soup of self-absorption, crawling through the muck of cliches, to finally standing almost upright and walking on solid ground (I still have a ways to go).
You knew this all along, didn't you? You knew that a simple request such as this one could never be simple in the hands of the writers you asked. We are writers who think too much—that's what got us here in the first place. I just read Adam Gopnik's intro to the Best American Essays of 2008 (hoping for some inspiration, some guide to approach this list-making); he says that all great essays have a "double focus. They have text and inner text, personal story and the larger point, the thing you're supposed to be paying attention to, and some other thing you're really interested in….So the essay, in partial definition, is simply that: a shortish prose form in which the apparent object of the piece is different from its real subject, and the writer thinks he knows what the difference is." My list-making has been like this—sure, the object was the list itself, a tangible thing that could maybe illuminate the genre a little bit for a few people; but the subject was my own psyche as a writer, my apprenticeship to these artists, and my eternal gratitude to them.
So, without further adieu, here is my list of "my ten favorite essays of all time." It is by no means definitive nor complete, and I couldn't resist allowing the stragglers to hang around the edges of the yard, hands in pockets, joking among themselves. Thanks for the opportunity,
Yours Truly,
Brenda
The List:
Anne Carson, "Kinds of Water"
(from Plainwater, 1996)
Joan Didion, "Goodbye to All That"
(from Slouching Toward Bethlehem, 1968)
E.B. White, "Goodbye to Forty-Eighth St."
(from Essays of E.B. White, 1977)
Bernard Cooper, Truth Serum
(from Houghton Mifflin, 1996)
David James Duncan, "The Mickey Mantle Koan"
(from River Teeth, 1996)
Albert Goldbarth, "After Yitzl"
(from Many Circles, 2001)
Andre Dubus, "Broken Vessels"
(from Broken Vessels, 1992)
Gretel Ehrlich, "Looking for a Lost Dog"
(from Islands, the Universe, Home, 1992)
Mark Doty, Still Life with Oysters and Lemons
(from Beacon Press, 2002)
Jo Ann Beard, "The Fourth State of Matter"
(from The Boys of My Youth, 1998)
Other Major Contenders:
Many more Cooper, White, and Didion essays than I can name, plus Marilyn Abildskov, Lucy Grealy, Bret Lott, Annie Dillard, and David Sedaris.
About Brenda Miller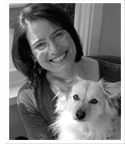 Brenda Miller is the author of the essay collections Season of the Body and Blessing of the Animals. She's also the editor of the highly influential anthology Tell It Slant: Writing and Shaping Creative Nonfiction. The recipient of five Pushcart Prizes, Miller's work regularly appears in the journals AGNI, The Georgia Review, Utne Reader, Fourth Genre, Creative Nonfiction, Yoga Journal, Brevity, The Missouri Review, and The Sun, and has been anthologized in The Best Creative Nonfiction, Volume 3. She is the long-time editor of the Bellingham Review and teaches creative writing at Western Washington University in Bellingham.